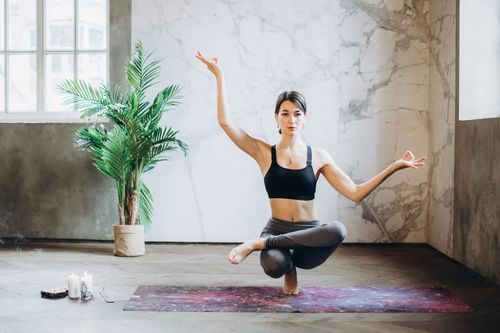 There are countless commemorative dates that offer well-being. However, June 21, International Yoga Day, is special, as the ancestral practice that provides physical and mental well-being, in addition to being exalted by laypeople, is highly respected by science.
A 2016 meta-analysis showed that hatha yoga (the most common type in the West) has benefits for controlling anxiety symptoms, including the most intense ones. A 2017 study found that yoga can reduce symptoms of depression, including among pregnant and lactating women. Other surveys show that just one practice session can instantly improve memory, among other data collected and yet to be released.
The most important tip is to find the right accessories. They make classes a lot easier—face-to-face or virtual.
A Good Mat
A yoga mat is one of the most important items and has varied types and styles. The choice will depend, to some extent, on your body. "If your joints hurt easily or you've had a special condition in your knees, you may need a thicker mat. Yoga mats usually range from 1.3mm to 6mm in thickness, the most standard being 4.5mm.
Blocks, Seats, and Belts
Yoga blocks and meditation benches are great accessories for those just starting out. They are used for stretching postures, supporting your positions, and promoting flexibility. They can also help in extension and balance postures or supporting the feet, hands, and spine. The most suitable blocks for beginners are made of foam or natural cork. These materials are also ideal as they are lightweight and easy to transport.
The belt is another suitable accessory for yoga beginners. It aids in stretching and aligning asanas, especially in postures that require greater flexibility. Choose a cotton belt that doesn't slip on your hands.
Aromatherapy
The aroma of the room where you will be doing yoga is also very important. Roll-on essential oils, therapeutic sprays, and other diffusers can come into play to broaden the senses and increase well-being through aromatherapy.
Reading
Reading about the practice is also interesting for you to understand all its benefits, limitations and also understand more about its vast history. According to Light on Yoga Sutras of Patanjali, "Practice is a generating force for transformation or progress in yoga, but if developed in isolation, it produces an unbridled energy that is thrown outwards, to the material world, as if propelled by a centrifugal force. Renunciation works by cutting back this burst of energy, protecting the practitioner from entanglement with sense objects and redirecting the energies towards the core of the being, like a centripetal force."
---
Post time: Jul-20-2021