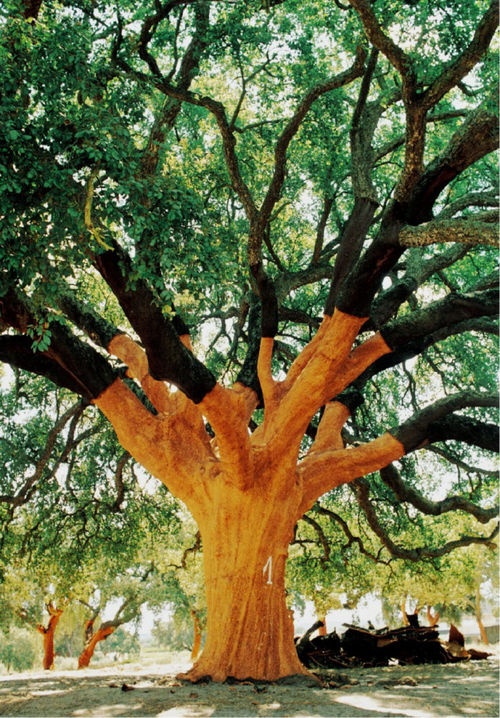 Cork oak forests, referred to as montados, are the lungs of the environment, the economy and the society of Mediterranean countries. They have such an important role for nature and people that they are protected by law. In Portugal, where there is the largest cork oak forest area in the world, the cork oak is the national tree and has been protected by law since the 13th century. A growing awareness of the value of the ecosystem of the cork oak forest has led to important initiatives in reforestation and the systematisation of good practices. It is a way of ensuring the future, without forgetting the old saying: "Whoever cares for their grandchildren, plants a cork oak".
Cork and Climate Change
Harvesting cork bark assists in the absorption of CO2 – a greenhouse gas that causes climate change. In fact, harvested cork trees absorb 3-5 times more CO2 than non-harvested trees. Cork oak trees in Portugal alone help offset 10 million tons of carbon every year. Cork trees are also important producers of oxygen.
Cork Trees Are Harvested, Not Cut Down
Cork stoppers are made from the bark of a cork oak tree, not the tree itself. Bark is harvested from the tree every 9-12 years. Completely renewable and sustainable, harvesting bark does not harm the tree. Each time cork is harvested; cork bark regenerates itself (and in doing so absorbs CO2). In fact, cork trees live between 100 and 300 years.
Cork Is Biodegradable and Recyclable
Cork is a natural, environmentally friendly material. It biodegrades completely and can be easily recycled without producing any toxic residues. The plastic portion of screw caps is non-recyclable.
If The Trees Go, So Do the Animals
Cork forests – or 'montados' in Portuguese – rank among the top biodiversity hotspots in the Mediterranean and Europe. They are home to a staggering 135 plant species and 42 bird species, many of who are endangered or critically endangered.
Cork Vs Screw Caps
Cork stoppers are punched out of strips of cork bark. Simple as that. The manufacture of screw caps and plastic stoppers, on the other hand, involves higher non-renewable energy consumption (not to mention the production of toxic by –products).
Social Impacts
Cork is a vital source of regional rural employment. Cork oak woodlands provide employment and guarantee the survival of local communities. It has been estimated that more than 100,000 people in the seven Mediterranean cork-producing countries depend directly and indirectly on cork economies.
---
Post time: Sep-07-2021