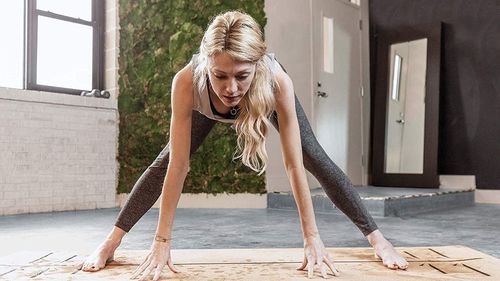 Cork yoga mats provide more traction than traditional yoga mats, making them a great solution for anyone who's tired of slipping and sliding through poses. The best cork yoga mats have a rubber backing that keeps in in place and a thick layer of naturally nonslip cork.
When choosing a cork yoga mat, it's important to pick one made entirely from natural cork and rubber, rather than from a cork blend. Real cork is not only a renewable resource but also has antimicrobial properties and is naturally odor-resistant and nonslip, which is particularly helpful for strenuous (and sweaty) yoga sessions. Cork yoga mats also typically have a rubber backing, which provides additional traction on floors. Look for mats made with natural rubber for the most eco-friendly option. Some yoga mats also come with additional features, like alignment markings, and carrying straps.
Next, consider what size yoga mat you need. The mats below range in length from 68 to 80 inches, so you're sure to find an option that fits your preferences. The thickness of the mat is also important, as thicker yoga mats provide better padding for your knees and head, but thinner mats provide more stability for tricky poses. The average thickness of a yoga mat is around 3 millimeters, but some cushier options are up to 7 millimeters thick or more.
---
Post time: Jul-01-2021